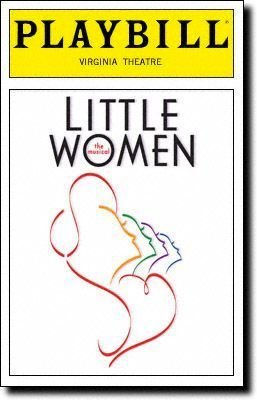 CAST LIST:
Marmee – Debby Lambert
Meg – Meghan Armitage
Jo – Samantha Flannelly
Beth – Michaela Semak
Younger Amy – Samantha Shelton
Older Amy – Sarah Arnold
Aunt March/Mrs. Kirk – Angel Callan
Laurie – Alan Skillern
Mr. Brooke – David Maginity
Prof. Bhaer – Dustin Bond
Mr. Laurence – Jack Randall Earles
Ensemble:
Haleigh Rowls
Arianna Pershing
Gwen Mazur
Rachel Lubinski
Lindsey Bridgewater
Anna Harris
JenJe Stouder

Buy the original Broadway Cast Cd HERE.

Read more about the original production HERE.

Read the libretto HERE

Musical Numbers:
Act I
Overture
An Operatic Tragedy- Jo, Clarissa, Braxton, Rodrigo
Better- Jo
Our Finest Dreams- Jo, Beth, Amy, and Meg
Here Alone- Marmee
Could You?- Aunt March and Jo
Delighted- Marmee, Meg, Beth, and Jo
Take a Chance on Me- Laurie
Off to Massachusetts- Beth and Mr. Laurence
Five Forever- Jo, Beth, Meg, Amy, and Laurie
More Than I Am- Mr. Brooke and Meg
Take A Chance on Me (Reprise)- Laurie
Astonishing- Jo

Act II
The Weekly Volcano Press- Jo, Professor Bhaer,
Mrs. Kirk, Clarissa, Braxton, Rodrigo, Hag,
Troll, Knight, Rodrigo II, and Company
Off To Massachusetts (Reprise)- Mr. Laurence,
Beth, Laurie, Marmee, Meg, Mr. Brooke
How I Am- Professor Bhaer
Some Things Are Meant to Be- Beth and Jo
The Most Amazing Thing- Amy and Laurie
Days of Plenty- Marmee
The Fire Within Me- Jo
Small Umbrella in the Rain- Jo and Professor Bhaer
The Weekly Volcano Press (Reprise) – Jo