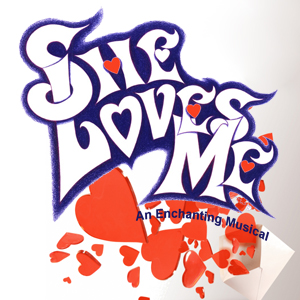 OUR CAST:
Arpad Laslo – Jason Lefever
Ladislove Sipos – Jay Prewitt
Ilona Ritter – Meghan Armitage
Steven Kodaly – Joshua Saul Bain
Georg Nowack – Dustin Bond
Amalia Balash – Lisa McCoy
Mr. Maraczek – Ric McFadden
Keller – Anna Harria
Busboy – Noah Pettit
Waiter – Andrew Ranck
Customers/Couples/Carolers –
Hannah Lefever, Hannah Newlin,
Kayla Norman, Robin Schneider,
Matt Schneider, Mason Allen,
Cameron Wunderlich, Andrew Ranck.
An intimate and touching show, featuring music by Jerry Bock and Sheldon Harnick (Fiddler on the Roof) and book by Joe Masteroff (Cabaret), She Loves Me was nominated for five Tony Awards in 1964. The 1993 Broadway revival won the Olivier Award for Best Musical Revival, the Drama Desk Award for Outstanding Revival of a Musical and the 1994 Critics Circle Award for Best Musical. Considered by many to be the most charming musical ever written, She Loves Me is a warm romantic comedy with an endearing innocence and a touch of old world elegance.
Read more about the show HERE.
Read the script HERE.
THE STORY:
(Warning spoilers are included)
The curtain rises on Maraczek's Parfumerie in Budapest one midsummer's day in the 1930's. The sales staff arrive one by one; Ladislav Sipos 'the eldest clerk' is followed by the delivery boy Arpad Laszlo on his bicycle, the 'woman of the world' Ilona Ritter and, shortly afterwards, Steven Kodaly, the shop's 'ladies' man'. They are joined by Georg Nowack, the manager, and they all muse on the possibilities of a day off (Good Morning, Good Day). These thoughts are shattered with the arrival of Mr. Maraczek who opens the shop to its first customers (Sounds While Selling) whose shopping is concluded in a most business-like manner (Thank You Madam).
Georg tells Sipos he has received another letter from his "Dear Friend" – his ongoing secret postal romance. They are interrupted by Mr. Maraczek who advises Georg, his dinner guest of the previous evening, to finally settle down. He recalls his own bachelor days (Days Gone By).
Arpad brings in the latest sales line, a musical cigarette box. As Georg expresses his doubts that they will ever sell any, Amalia Balash enters. Georg assumes her to be a customer but it becomes apparent that she's looking for a job. Despite rejections from Georg and Mr. Maraczek she perseveres and sells a musical box to an amply proportioned lady as a confectionery box with a built-in alarm system (No More Candy). After this success Amalia is hired on the spot, and joins the rest of the staff in the (Thank You Madam) refrain.
Summer becomes Autumn and Georg continues his writing amidst an undercurrent of tensions (Three Letters); Ilona and Kodaly fall out, Georg and Maraczek disagree over everything, and Georg and Amalia snipe at each other constantly. We learn, however, that Amalia is the recipient of Georg's letters.
A winter's day dawns with Amalia late yet again. Georg, however, is preoccupied; not only has the weight of Maraczek's dissatisfaction fallen solely upon him, but the first meeting with "Dear Friend" has at last been organised. (Tonight At Eight)
Amalia confides to Ilona about her impending date, and admits that, although they have never met, she feels she knows him well through their correspondence (I Don't Know His Name).
At the moment when Maraczek is about to fire Georg, Sipos averts the immediate crisis by dropping a pile of boxes. Sipos and Georg are left alone, for Sipos to expound his life's philosophy (Perspective).
The staff have been asked to work late to decorate the shop for Christmas. When Georg tries to tell Maraczek that neither he nor Amalia can work that evening, Maraczek provokes another argument and Georg resigns. The other members of staff bid him a sad farewell (Goodbye Georg) and he leaves. Meanwhile, Amalia, dressed in her best clothes and carrying the rose and book that will identify her to her "Dear Friend", also leaves, full of doubts (Will He Like Me).
Inside the shop Kodaly makes it up with Ilona (Ilona) and they agree to go out that evening. When Maraczek suddenly announces that everyone must leave, however, Kodaly remembers a prior engagement and lets Ilona down. She determines not to be anyone's fool any longer (I Resolve).
As Sipos leaves he is met by Georg who has decided he can't go through with his date with Dear Friend, and asks Sipos to take a note with the promise that he will write to her instead. Sipos offers his moral support and insists that they both go to the rendezvous. Maraczek, unaware that Arpad is still in the stock room, admits Mr. Keller, a private detective. Tipped off by an anonymous letter, Maraczek has had his wife investigated and Keller tells him the bitter truth – she is indeed having an affair with one of his employees. To Maraczek's surprise the guilty party turns out to be Kodaly and not Georg, whom he had originally suspected. As Keller leaves, Maraczek gets a call from his wife to say that she'll be out again that night. He sadly goes upstairs. As Arpad enters he sees Maraczek, and as he runs into the office we hear a shot…
We switch our attention to the Cafe Imperiale, where the Head Waiter is welcoming his guests (Romantic Atmosphere). Georg and Sipos arrive and Sipos is astonished to learn that "Dear Friend" is actually Amalia. He persuades Georg to go and speak to her. As the cafe band plays (Tango Tragique), Georg invites himself to join Amalia at her table. A frosty conversation ensues with Amalia anxious that Georg's presence doesn't frighten off "Dear Friend". She eventually loses patience and screams at Georg to leave (Mr. Nowack, Will You Please…). As the cafe closes she realises that her date will not materialise and she sings the plaintive (Dear Friend).
Act Two opens in Maraczek's hospital room where Arpad, having run errands to cover the botched shooting, takes the opportunity for self-advancement (Try Me). In response to Maraczek's note, Georg arrives and listens in open-mouthed amazement to Maraczek's apology for having accused him of an affair with his wife. Georg is re-instated as manager and the two are friends again.
Georg calls in to see Amalia who is 'unwell' as a result of drinking too much wine the night before. He is accused of snooping, whereupon she makes a disorganised effort to get ready for work (Where's My Shoe). Georg manages to calm her down and they discuss her failed meeting with "Dear Friend", Georg inventing, as he goes along, a fat, old, bald penfriend. After he leaves, Amalia tries to write to "Dear Friend" but her thoughts return to Georg and his get-well gift (Vanilla Ice Cream).
Georg returns to the shop convinced that the tide has turned in his relationship with Amalia (She Loves Me). There he finds Ilona celebrating her new love (A Trip To the Library) and Sipos, who confesses that he sent Maraczek the anonymous letter to engineer the dismissal of Kodaly, which now takes place (Grand Knowing You).
We follow the frantic last-minute rush of customers to the shop, and the growing friendship of Georg and Amalia (Twelve Days To Christmas). Mr. Maraczek returns to the store at the close of business on Christmas Eve, and is presented with a bumper cash register tape. As Ilona goes off with her new beau and Sipos is about to join his family, Maraczek whisks Arpad – now a clerk – off to celebrate.
Georg is invited to join Amalia and her mother for Christmas Eve. When she shows him her gift for "Dear Friend" it is, ironically, the musical cigarette box. Georg begins to quote one of his letters, and realisation dawns on Amalia that Georg is indeed her "Dear Friend". They embrace amid a flurry of snowflakes as the curtain falls.