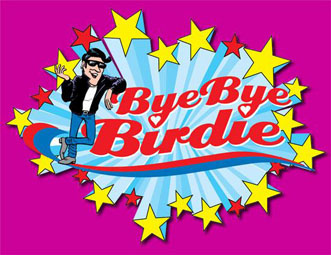 Lita speaks first:
My strongest memory of Bye Bye Birdie comes from seeing
the film version on television many, many times. I have
also seen the latest TV version as well. Like most
girls who were teens as the time, my favorite character
is Kim McAfee who was played by Ann-Margaret in the
original movie (and Susan Watson on Broadway). I was
growing up in the 1960's – the time period of the
original musical – and I hope to bring that feeling to
the stage and take audiences back in time for a couple
of hours. My favorite dance number will be "Gotta Lot
of Livin' to Do" by Conrad Birdie and Teen company. I
have some "special" plans for this exciting dance which
is staged in the "Ice House" where the teens go to hang
out. A parent's worst nightmare. Dick Van Dyke and
Chita Rivera played the original roles of Albert and
Rosie on Broadway (Janet Leigh replaced Chita in the
movie). That is a lot to live up to, ya know?! Both are
great dancers/performers. Actually, I am really excited
to see who will audition for this musical. I think the
words I would say describes "Birdie" include funny,
laid back, nervous, and corny (in the best sense of the
word). But mostly it's a light hearted look at a more
secure time, and watching it makes me wish we could go
back to that time…visit PCPH in August, and you'll
see why. At least we can go back for a couple of
hours together! See you at auditions!