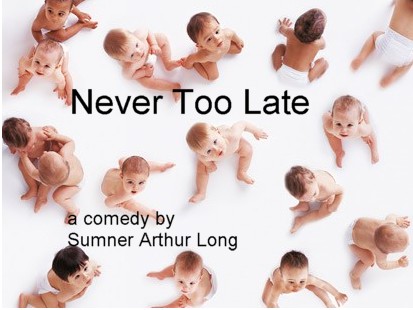 The 49th season comes to a close in September with
a production of the popular Sumner Arthur Long
comedy Never Too Late. The show first opened on
Broadway on November 27, 1962. It was directed by
George Abbott. The leading roles were played by
Maureen O'Sullivan and Paul Ford. Supporting roles
were played by Orson Bean and Fran Sharon. The play
received two Tony Award nominations: Ford (Dramatic
Actor, he lost to Arthur Hill in Who's Afraid of
Virginia Woolf?) and Abbott (Director – Play, he
lost to Alan Schneider for Who's Afraid of Virginia
Woolf?).
Read about the original Broadway production HERE
Warner Bros. produced a film version of the play in
1965. O'Sullivan and Ford repeated their stage roles. 
The roles played by Bean and Sharon were given to
Jim Hutton and Connie Stevens. O'Sullivan was
nominated for a Golden Globe as Best Actress for the
film. Long out of print, the movie is available as
part of the Warner Bros. Archive collection HERE.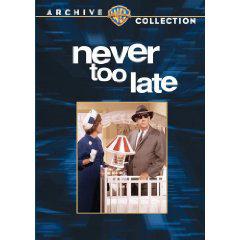 The play was last produced by PCPH in 1985.
Our new production will be directed by Shelly
McFadden.
Never Too Late was one of the most popular stock
comedies of the 1960's!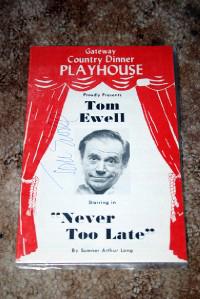 It also was produced in London.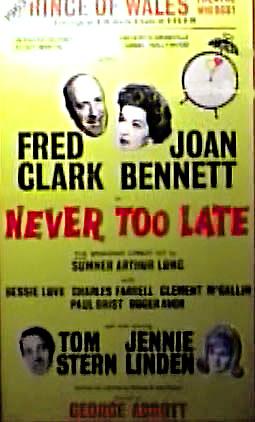 THE STORY
Don't read here if don't want to know what happens
in the play!
Harry Lambert is a married man in his late 50's who
suddenly learns that he's going to become a father
again. His last child was a girl born 24 years ago,
and considering the idiot she ended up marrying, he
finds the prospect of another such affair unthinkable.
His wife Edith, the mother to be, is at first
bewildered and then delighted at the prospect of
becoming a mother again. At long last, Edith puts her
foot down and issues some terms of her own. There's
going to be a nursery, a new bathroom, and she is
going to have her own checking account. The attitudes
of the children, the neighbors, and Harry's peers will
leave you laughing. And how does that toilet end up on
the mayor's lawn?