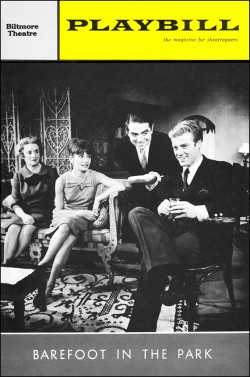 Barefoot in the Park is a lively comedy written
by the King of Broadway Comedy, Neil Simon. It
has been produced twice at Putnam County Playhouse.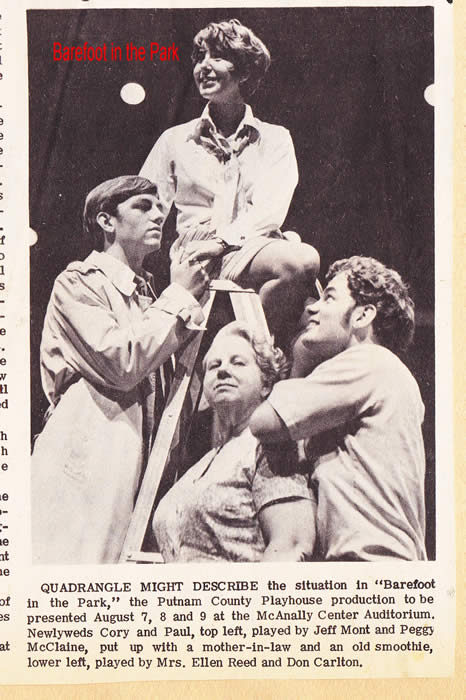 1969 – Directed by Shaun Higgins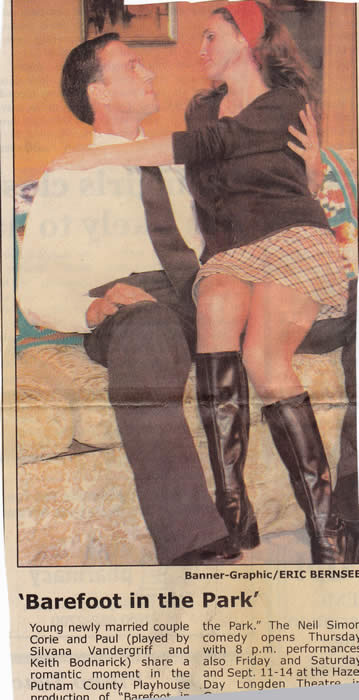 2002 – Directed by Bethany Bax

I am happy to be the third director to bring
this comedy to the PCPH stage. As with all
Simon comedies, BITP has moments of laughter
and moments of heart. All of those wishing to
audition should have stage experience. This is
definitely what is called an ensemble comedy.
Each character bounces off the other and adds
the to hilarity of the evening. Stage age is
important, and of course Corie and her mother
should have a family resemblance. Please come
out to audtions and help me create a lively
memorable evening for our audiences. The
September show is the one they take with them
into the winter break. Barefoot in the Park
was filmed first in 1967. This version starred
Jane Fonda, Robert Redford, Charles Boyer, and
Mildred Natwick. It was also the basis for a
1970 ABC television series starring Scoey
Mitchell and Tracy Reed. An HBO Special was
taped in Seattle in 1981. This production
starrred Richard Thomas, Bess Armstrong, Hans
Conreid, and Barbara Barrie. During auditions,
we will read from the script and perhaps do some
situational improvisation – depending on the
number of folks we see. Come prepared to have
fun and become part of a creative ensemble.
See you there!
Jack Randall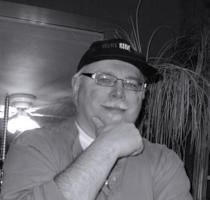 Jack Randall Earles

Jack Randall came to PCPH in 1979,appearing in
the revue "An Evening With Cole Porter." He has
done shows every season since. He was elected
to the Board of Directors in 1982 and has served
two terms as its President. He is currently
Recording Secretary of the PCPH Board of Directors.
In 2016, he directed "On Golden Pond" and appeared
in "1776". In 2015, he directed"The Bad Seed" and
appeared as William Gillette in "The Game's Afoot."
Other shows he has directed include "Blithe Spirit",
"The Curious Savage", "I'll Be Back Before Midnight",
and "Death By Chocolate." Musicals he has directed
include "Man of La Mancha", "Guys & Dolls", "Camelot",
"Once Upon a Mattress", and "The Pajama Game." Jack
Randall has appeared in leading roles in such shows
as "The Drowsy Chaperone", "The Sunshine Boys",
"Never Too Late", "A Funny Thing Happened on the Way to
the Forum", and "The Music Man." He is a 4-time winner
of the Upstage Award. Jack Randall has had three of his
original plays produced at the Phoenix Theatre in
Indianapolis, where he has also directed, acted,
choreographed, and stage-managed productions.
He is a member of the Actors Equity Candidate Program.
He dedicates this production to his longtime mentor and
PCPH Founder Mr. Jim Poor.