FROM THE DIRECTOR:
A rare combination of unprecedented originality and
blinding talent, The Drowsy Chaperone boldly
addresses a great unspoken desire in all of our
hearts: to be entertained. If you've ever sat in a
darkened audition hall and thought, "Dear Lord in
Heaven, this show is going to be spectacularly fun
and I want to be a part of it," this is the show for
you! Plan your 16-bar audition piece (verse/chorus),
bring your music (we'll provide Marilyn, our
incredibly talented pianist to play for you), your
dancing shoes (yes, Virginia, there will be a dance
audition) and your joie de vivre (that's joy of life,
if I remember correctly from my high school french)
because this script is so good that even AUDITIONS
will be fun! A' capella auditions (that means singing
without any kind of instrument accompanying you) are
strongly discouraged. Please check the links to
information about the show…every role is a wonderful
character role in this show and we will have a
featured ensemble. We will rehearse Monday – Thursday
and there may be additional Saturday morning dance
rehearsals. I am also looking for persons interested
in working backstage (set crew), hair stylists,
make-up artists, spot light operators. If you are
interested, please come to auditions. Whether you're a
seasoned veteran of the Putnam County Playhouse stage
or considering participating for the first time at the
barn, I hope you'll join us at auditions for
THE DROWSY CHAPERONE.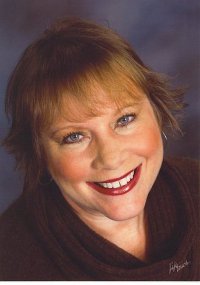 Director Shelly McFadden.

Shelly is a member of the Board of Directors
of Putnam County Playhouse. Previously, she
has directed The Music Man, Thoroughly
Modern Millie, Never Too Late, and Mark of
Cain for PCPH. Shelly has also appeared in
many PCPH productions including Clue: The
Musical, Arsenic and Old Lace, Man of La
Mancha, Cinderella, and Oliver!