June 4-6 & June 10-13

Individual tickets on sale Sunday, May 31.

Season ticket brochures will be mailed in April.

The show is sponsored by:

Click HERE to learn more about our sponsor.
DIRECTOR: Shelly McFadden
Assistant Director: Katie Wallace
Musical Direction: Marilyn Burdsall Rush
Vocal Direction: Cameron Callan
Choreographer: Deborah Grammel
Scenic Designer: Linda Gjesvold
Production Stage Manager: Jessica Masner
Technical Director: Bryan Schroeder
Rehearsal Pianist: Ellen McCullough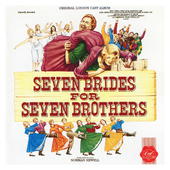 Click on the CD to buy songs from
the London Cast Album from iTunes.

Click HERE to read about the history
of the Broadway Version of the show.

Click HERE to purchase the Vocal
Selections book from the show.