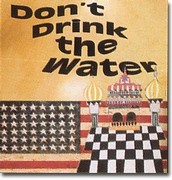 Director's Notes from Jim Rambo
Don't Drink the Water, the September 2011 production at the
Putnam County Playhouse, will conclude our landmark 50th
season! This is a very funny show, a fast-paced comedy set
in a 1960s U. S. embassy in an unnamed East European
communist country. I will be directing for the first time
after several years' experience on the PCPH stage, and am
particularly fortunate to be able to draw on experienced
advice from veteran directors Vickie Parker and
Linda Gjesvold, my assistant directors. We'll be looking
for mostly adult actors, though mature-looking teenagers
might be considered for some roles. There is a nice mix of
leading, supporting and cameo parts, and I would also like
to have a few people as non-speaking extras (especially at
a cocktail party and as political demonstrators). Some of
the smaller roles would be a good way to gain experience
on the stage, so I encourage even those with little or no
acting experience to come to auditions on July 24 or 25.
Those auditioning will read scenes from the script. No
prior preparation will be necessary, except for
familiarizing yourself with the characters. (See the "Cast
and Crew" section on this web site.) If you are interested
in the theater but don't necessarily want to be on stage,
there are many other ways to volunteer at PCPH: working
backstage, with lights or sound, with costumes, with set
building. I will be looking for people in all these areas
for this production. My own experience with the Playhouse
began with an audition which I did on an impulse, having
never been on stage previously. My subsequent years at PCPH
have proven to be some of the most rewarding of my life. So
come out and join us! You never know what you might start!