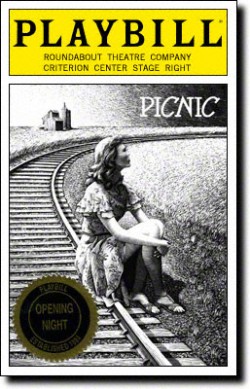 As time goes by, the point of reference for most
plays becomes the popular movie version. This has
what has happened to William Inge's Pulitzer Prize
winning play Picnic. Although the film version
from 1955 had some problems – many in the cast
were too old for their parts – it was a big hit. The
play itself has been done regularly by community
theaters and revived a couple of times on Broadway.
PCPH produced it in 1988 directed by – ME! It has
always been a favorite of mine, and I am pleased and
excited to present a new production of it. The story
of love – lost, unrequited, found – is as poignant
and life affirming as it has ever been. Although I
choose to set the play in its original time period,
the themes are without a time or place. I am looking
for actors and actresses with some experience and who
enjoy working as one of an ensemble. It is crucial to
create a family dynamic and small town ambience in the
casting, set design, and sound design. I hope to take
our audiences to a specific place and let them find
themselves there – whether they may be rediscovering a
time that they are familiar with or discovering a new one.
Please join me in creating our Picnic! I look forward
to seeing you at auditions.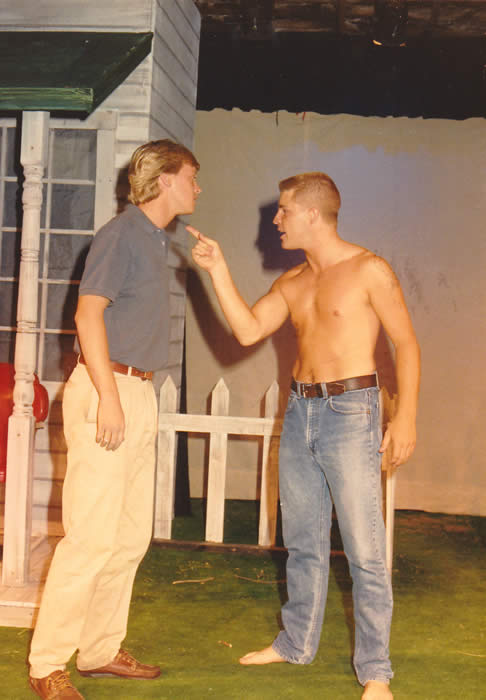 Mark Frisbie as Alan and Brian Williams as Hal in Picnic – 1988…..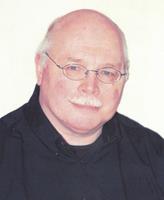 Jack Randall Earles began his career at PCPH in 1979.
He is celebrating his 40th anniversary by directing
one of his favorite plays. He joined the board in
1982 and is currently serving as its Recording
Secretary and a member of the Executive Board. Jack
Randall has appeared in many PCPH productions and
directed many as well. Most recently he appeared as
Lt. Ward and FDR in Annie directed by Caroline Good
and as Major Metcalf in The Mousetrap directed by
TJ Tincher. His leading roles include Harry in Never
Too Late and the Man in the Chair in The Drowsy
Chaperone, both directed by Shelly McFadden. He is a
four-time winner of the Upstage Award and looks forward
someday to adding a fifth one to his collection. Most
recently he won for his role as Banjo in The Man Who
Came to Dinner, directed by Ric McFadden. His directing
credits at PCPH include Man of La Mancha, On Golden Pond,
Barefoot in the Park, Guys & Dolls, and Joseph & the
Amazing Technicolor Dreamcoat. He was the Indianapolis
Phoenix Theatre's Artist of the Year in 1995. Jack Randall
is a member of the Actors Equity Candidate Program. He has
appeared in several productions at DePauw University
including Sister Act!, Antigone, Achilles/Achilles Son,
the original musical The Trouble With Accountants, and
The Crucible.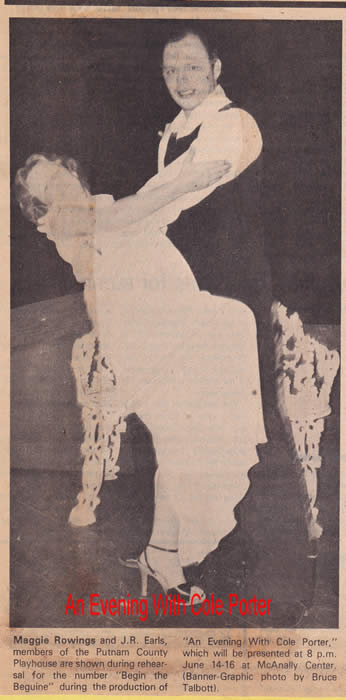 Debut Production – 1979.