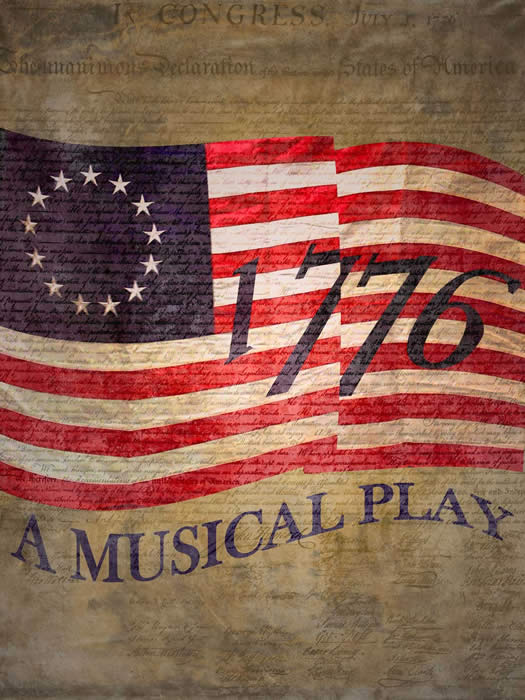 Cast
JOHN ADAMS – Joe Buser
THOMAS JEFFERSON – Lee Reberger
ABIGAIL ADAMS – Caroline Good
BENJAMIN FRANKLIN – Ric McFadden
COL. THOMAS McKEAN – Chris Wurster
COURIER – Joe Lippard
EDWARD RUTLEDGE – Dustin Bond
JOHN DICKINSON – Joshua Bain
MARTHA JEFFERSON – Sarah Bond
RICHARD HENRY LEE – Gary Van Middlesworth
ROBERT LIVINGSTON – Matt Schneider
ROGER SHERMAN – Jacob Glidden
STEPHEN HOPKINS – Don Wilson
JOHN HANCOCK – Michael McClaine
JOSIAH BARTLETT – Clarence Long
LEWIS MORRIS – Jack Randall Earles
JOHN WITHERSPOON – Andrew Ranck
JAMES WILSON – Michael Nowling
CAESAR RODNEY – Jim Rambo
GEORGE READ – Lance Clodfelter
SAMUEL CHASE – Jacob Riggen
JOSEPH HEWES – Brian Howard
DR. LYMAN HALL – Bill Cole
CHARLES THOMSON – Scott Armitage
ANDREW McNAIR – Alex Asbell
PAINTER/LEATHER APRON – Donovan Asbell

Buy the original Broadway cast CD HERE.

Buy the Broadway Revival cast CD HERE.

Read more about the original Broadway production HERE.

Read the script HERE.

Song List:
Sit Down, John ….. John Adams & the Congress
Piddle, Twiddle and Resolve ….. John Adams
Till Then ….. John & Abigal Adams
The Lees of Old Virginia ….. Lee, Franklin & Adams
But, Mr. Adams ….. Adams, Franklin, Jefferson, Sherman & Livingston
Yours, Yours, Yours ….. John & Abigal Adams
He Plays the Violin ….. Martha Jefferson, Franklin & Adams
Cool, Cool, Considerate Men ….. Dickinson & The Conservatives
Momma Look Sharp ….. Courier, Congressional Custodian & Leather Apron
The Egg ….. Franklin, Adams & Jefferson
Molasses to Rum ….. Rutledge
Yours, Yours, Yours (Reprise) ….. Abigail
Is Anybody There? ….. Adams