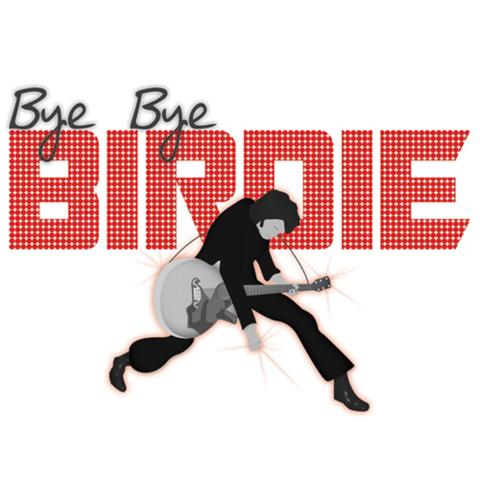 Music By Charles Strouse
Lyrics by Lee Adams
Book by Michael Stewart
The lively musical Bye Bye Birdie will be
presented by PCPH in August. 
A hit since it first opened on Broadway in April, 1960, Bye Bye Birdie!
has always been one of the most-produced musicals on stages around the
world. The original Broadway cast included Dick Van Dyke and Chita
Rivera in the leading roles of Albert and Rosie. Others in the cast
included Paul Lynde as Harry McAfee, Kay Medford as Mrs. Peterson,
and Dick Gautier as Conrad Birdie.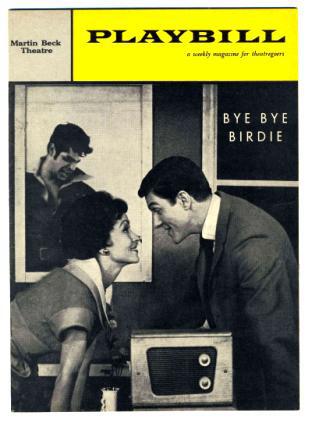 It was nominated for seven Tony
Awards. It won the award for Best Musical, and Dick Van Dyke won for
Best Featured Actor in a Musical. Gower Champion won for both Best
Direction of a Musical and Best Choreography. Other nominees included
Rivera for Best Featured Actress in a Musical (she lost to Tammy Grimes
in The Unsinkable Molly Brown), Gautier for Best Featured Actor in a
Musical (he lost to Van Dyke), Best Scenic Design Musical (Robert
Randolph lost to Oliver Smith for Camelot), and Best Conductor and
Musical Director (Elliot Lawrence lost to Franz Allers for Camelot).

Read about the original Broadway production HERE.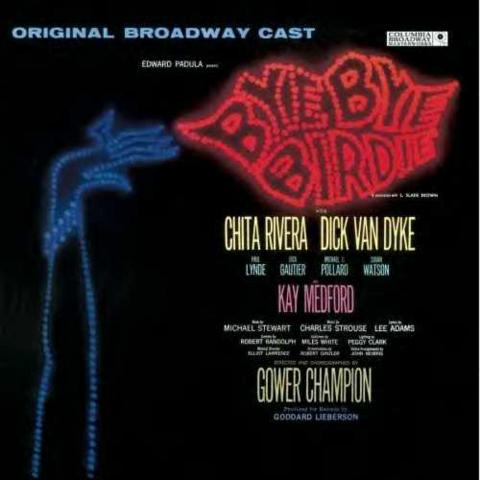 Buy the Original Cast Album HERE

The musical was filmed by Columbia in 1963 with Van Dyke and Lynde
reprising their roles. Janet Leigh and Maureen Stapleton played the
roles originated by Rivera and Medford. 

Buy the DVD HERE.

A 1981 sequel Bring Back Birdie closed after 4 Broadway performances.
A 1995 television production starred Jason Alexander and
Vanessa L. Williams. Tyne Daly played Mrs. Albertson.
Buy the DVD HERE
The most recent New York production played Henry Miller's Theater
October 15, 2009, and closed on January 24, 2010. It featured John
Stamos and Gina Gershon in the leading roles.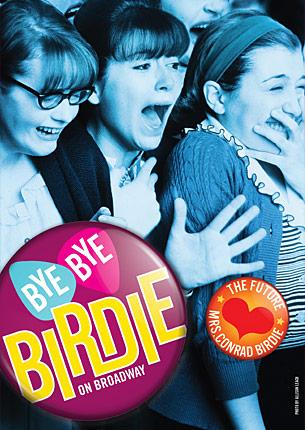 Bye Bye Birdie was last produced by PCPH in 1987. It was directed and
choreographed by Jack Randall Earles. It featured Marc Adams and Sandi
Ulrey Robles in the leading roles. Francoise Coulant-Henderson played
Mrs. Peterson and Dr. William Frisbie was Mr. McAfee. 
Our new production will be directed by
Lita Sandy & Bryan Schroeder

THE STORY
(Don't read this if you don't want to know what happens!)
Act One
Agent and songwriter Albert Peterson finds himself in trouble when
hip-thrusting rock and roll superstar Conrad Birdie is drafted into
the Army. Albert's secretary and sweetheart, Rose Alvarez, comes up
with a last-ditch publicity stunt to have Conrad Birdie record and
premiere a song before he is sent overseas. She makes Albert promise
to give up the music business and to start teaching English at schools.
("An English Teacher.") They plan to have Birdie sing Albert's new song
"One Last Kiss" and give one lucky girl from his fan club a real "last
kiss" on the Ed Sullivan Show before going into the Army. The lucky girl
chosen randomly from Conrad's national fan club is fifteen-year-old Kim
MacAfee from Sweet Apple, Ohio . All the teenagers in Sweet Apple are
catching up on the latest gossip about Kim MacAfee and Hugo Peabody going
steady ("The Telephone Hour"). Kim, excited to have a boyfriend, reflects
on how happy she is with her maturity ("How Lovely to Be a Woman").
Conrad, Albert and Rosie set off to Sweet Apple to prepare for the event.
Before they depart by train from New York City, local teenage girls are
ecstatic to meet Conrad, but two young girls are sad that by the time
Conrad gets out of the army, they'll be too old for him. Albert advises
them to be optimistic
("Put on a Happy Face").
Soon, reporters arrive and ask Albert, Rosie, and the teenagers about
Conrad ("A Healthy, Normal, American Boy"). Conrad receives a hero's
welcome in Sweet Apple, and Hugo worries that Kim likes Conrad more than
she likes him, but Kim assures Hugo that he's the only boy she loves ("One
Boy"). Conrad shocks the town parents and drives the teenage girls crazy
with his performance of "Honestly Sincere". Conrad becomes a guest in the
MacAfee house and irritates Kim's father, Harry MacAfee, by being a rude
and selfish guest and calling him "Fats". But, Harry's wife Doris dotes on
Conrad, leaving her husband with no breakfast other than a warm soft drink.
Harry does not want Kim to kiss Conrad until Albert tells him their whole
family will be on The Ed Sullivan Show. Harry, Doris, Kim, and her younger
brother Randolph sing Sullivan's praises in "Hymn for a Sunday Evening".
Hugo becomes disastrously jealous of Conrad. Albert's overbearing,
interfering mother Mae comes to break up her son's relationship with Rosie.
Although Rosie is a positive influence, Mae is narrow-minded and dislikes
Rosie dating her son. Rosie and Hugo plot a way to ruin the broadcast.
Conrad sings "One Last Kiss" on The Ed Sullivan Show, and as he leans in to
kiss Kim, Hugo runs onstage and punches him in the face. On live television,
Conrad collapses, Rosie breaks up with Albert, and Albert, trying to cover
for the mishaps of the evening, leads a chorus of "A Healthy, Normal,
American Boy" (Reprise).
Act Two
Despite plans to refilm the broadcast, Rosie and Kim resolve to leave Albert
and Hugo, each asking herself, "What Did I Ever See in Him?" Conrad decides
he wants to go out and have a good time on his last night as a civilian, and
encourages the teens to party, and they declare they've got "A Lot of Livin'
to Do". Conrad, Kim, and all the teenagers except Hugo head for the Ice House
where they can party without adult supervision. Hugo goes to Maude's Roadside
Retreat, hoping to get drunk, but proprietor Charles F. Maude can tell that
he's under age and refuses to serve him. When Mr. MacAfee finds out Kim has
run away, he and Mrs. MacAfee lament how disobedient "Kids" are today. Rosie
ends up at Maude's Roadside Retreat, but Albert calls her on the telephone and
begs her, "Baby Talk To Me". Rosie, hoping to forget Albert, interrupts a
meeting being held in Maude's private dining room. She flirts with all the
Shriners, and they begin a wild dance. Hugo and Albert rescue Rosie from the
crazed Shriners, and Albert finally stands up to his mother, telling her to go
home. Hugo tells the MacAfees and the other parents that the teenagers have all
gone to the Ice House, and they all declare that they don't know what's wrong
with their "Kids" (Reprise). Randolph joins in, stating that his older sister
and the other teens are "ridiculous and so immature". The adults and the police
arrive at the Ice House and arrest Conrad, although he doesn't appear to have
done anything illegal or immoral. Kim claims that she was intimidated by Conrad
and Hugo gladly takes her back. After a reconciliation with Albert, Rosie sees
Albert's mother and declares that she will marry Albert despite the mother's
objections, and to irritate her, sings "Spanish Rose". Albert bails Conrad out of
jail and arranges for him to sneak out of town dressed as a middle-aged
woman—presumably so he can report for Army induction as scheduled. Albert also
gets his mother to leave Sweet Apple bound for home on the same train, and then
tells Rosie that they're going to Pumpkin Falls, Iowa. The small town is in need
of an English teacher, and they prefer the applicant to be married. Albert
professes his love for her in "Rosie", and they go off together.