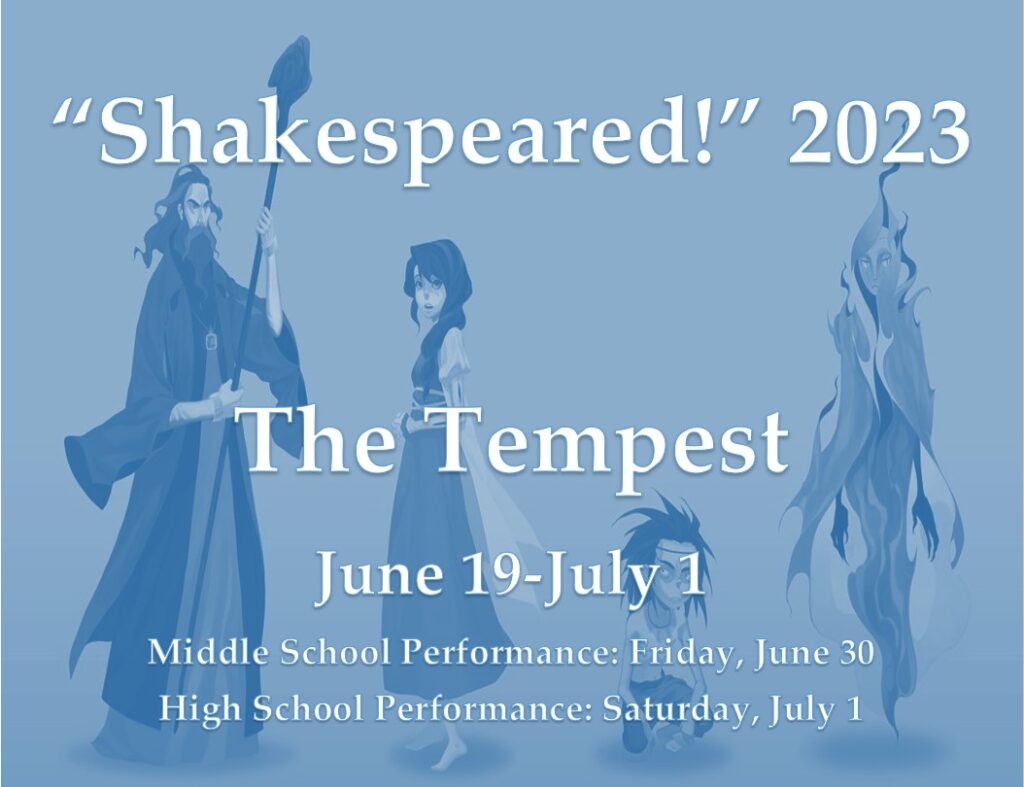 This year's annual two-week-long "Shakespeared!" Workshop at the Putnam County Playhouse centers around THE TEMPEST, with the middle school group performing their version on Friday, June 30th, and the high school group presenting their "Gilligan's Island" comedic version on Saturday, July 1st. 
The sign-up page will be active on February 1st.
Both groups meet in the afternoons daily during the two weeks, playing theatre games, learning voice, stage movement, and acting techniques, and, of course, rehearsing the play. Workshop dates are:
Middle School Group Meets 12:30-2:30pm Monday-Friday (June 19-30)
Middle School Group Performance: 7:00pm on Friday, June 30th
High School Group Meets 3:00-5:30pm Monday-Friday (June 19-30)
High School Group Performance: 7:00pm on Saturday, July 1st
The scripts will be available soon right here on our Youth Theatre Workshop webpage, so, feel free to read it before our first day. We will read through the play on day one on our feet as a group, and the players will have a chance to note their role preferences. The roles will be cast that evening, and rehearsals will begin on day two!
THERE ARE PARTS FOR EVERYONE! "Shakespeared!" is tailored to provide young players with an opportunity to engage with Shakespeare's text in a fun way and to see the potential interpretations that lie within the text.
Please feel free to contact Caroline Good (cgood@depauw.edu) with ANY questions regarding the workshop!
"We are such stuff
As dreams are made on, and our little life
Is rounded with a sleep."
The workshop is sponsored by:
To read about our sponsor click HERE.