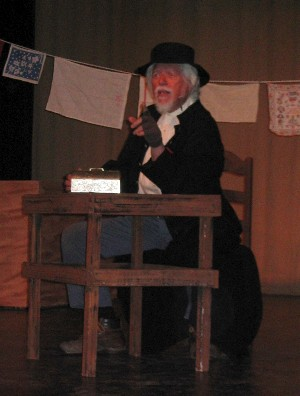 Neil Simon is one of America's most famous comedy playwrights. Theatre goers will remember The Odd Couple, The Prisoner of Second Avenue, and Barefoot in the Park — all presented on the Putnam County Playhouse stage in years past.
One of his later efforts was The Sunshine Boys, first presented on Broadway in 1972. To quote Clive Barnes of The New York Times, "In this unanimously acclaimed play about the temporary reunion of two old vaudeville comics who have been feuding for years, Neil Simon has given more depth and scope to his comedy than ever before."
Simon's characters always find themselves in hilarious situations, but they never lose their humanity. I have acted in The Odd Couple and directed The Prisoner of Second Avenue. Both of those experiences have made me appreciate his writing and structure.
Persons who are thinking about auditioning should read the play, which is available in various forms. The motion picture and a more recent Made-For-Cable version are both in print. The film version starring Walter Matthau and George Burns is more faithful to the stage script, although it has been changed somewhat. All who audition will be asked to read from the script. Because of the size of the main roles, I will be looking for experienced actors for Willie and Al. All parts call for good memorization and comedy timing.
PCP has scheduled The Sunshine Boys as its final show of the 2007 season. The cast will be composed of five men — two in their mid-seventies, one in his thirties, a middle aged man, and a younger man. Rounding out the cast are two women — one young girl in her twenties that must be well endowed, and a middle aged woman.
The PCP audience will enjoy finishing the 2007 season laughing their socks off. Plan on seeing this fun Neil Simon comedy in September.