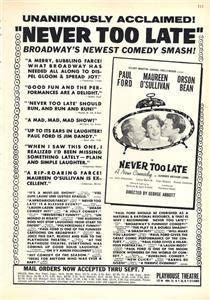 "I'm baaack!"
I had so much fun directing Mark of Cain last summer;
I couldn't wait to try my hand at directing again!
Never Too Late calls for a cast of 9 actors &
actresses…that's double the number of cast members I
directed last year…so I know I am going to have double
the fun! Never Too Late is set in the early '60's…. I
was a wee child then; however, I have very fond
memories of that time. It is my desire to transport
our patrons back to that amazing decade and bring
Sumner Arthur Long's hilarious comedy to life. When I
read Never Too Late for the first time, I could
envision the set and the costumes…all I need are the
actors! I am going to make every attempt to cast this
show using actors of the appropriate age. So all of
you late 40-, 50- or early 60-somethings who think
there are no good roles left for you…THINK AGAIN!!!
There are some fantastic roles for you in Never Too Late !
Grace, Harry, Edith, Dr. Kimbrough and Mayor Crane are all
contemporaries…in their late 50's. (You can see why
Edith's pregnancy causes such a stir!) Charlie & Kate are
in their mid-twenties (we have a little more lee-way with
their ages). There are two additional roles, Mr. Foley
(30's or 40's), and the Policeman, who is younger. I have
had a blast in the last 19 years in my involvement with
Putnam County Playhouse whether it's on-stage, directing,
back-stage or in the tech loft. If you've always thought
you'd like to get involved at PCPH…I hope I'll see you at
auditions for Never Too Late. Once you're here…you're
hooked!!! If you'd like to do something other than act on
stage…we've got lots of opportunities for you to get
involved with all aspects of back stage, tech, etc. Come
out and see me…Let's make Never Too Late a spectacular end
to what promises to be a wonderful season at Putnam County
Playhouse!