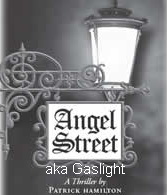 Suspense is a common element in films and television.
What happens next? One of the most famous Hollywood
suspense films is Gaslight, directed by George Cukor
and released in 1944. It was based on the original
1940 British film of the same name, adapted from
Patrick Hamilton's play Angel Street. The American
version starred Charles Boyer and Ingrid Bergman in
the leading roles with support from Angela Lansbury
(making her U.S. film debut), Joseph Cotton, and Dame
May Whitty. Bergman won the Academy Award for her
performance, and Boyer and Lansbury also received
nominations. It also won the Award for Best Art
Direction. Additional nominations for the film
included Best Picture, Best Adapted Screenplay, and
Best Cinematography. After its 1938 debut in England,
Angel Street opened on Broadway in 1941 and played for
over 1700 performances. The difference in the medium
makes all of the difference in the world. A stage play
depends on a combination of character and mood to
create a feeling of suspense for the audience. If
everything is working the way it should, the audience
should have an even greater feeling of "what happens
next" than it does in a movie theater or at home in
the living room. The play, in substance, is the same
story as presented in the film. However the time
element is compressed into one day. It also retains
the Victorian time period. I enjoy the challenge of
doing a play like Angel Street. Working with a small
cast always gives me the opportunity to work more
closely with the actors. Together we can create an
atmosphere that will keep the audience in suspense
until the very last moment. Certainly I hope to cast
actors with some experience, and it is important that
those who plan to audition are familiar with using a
British accent. It will help you to watch the film
version of the play, both the American and English
versions are available on DVD. Angel Street – July,
2013 – is a great opportunity for us technically and
creatively. I hope you plan on joining us to find out
– what happens next!