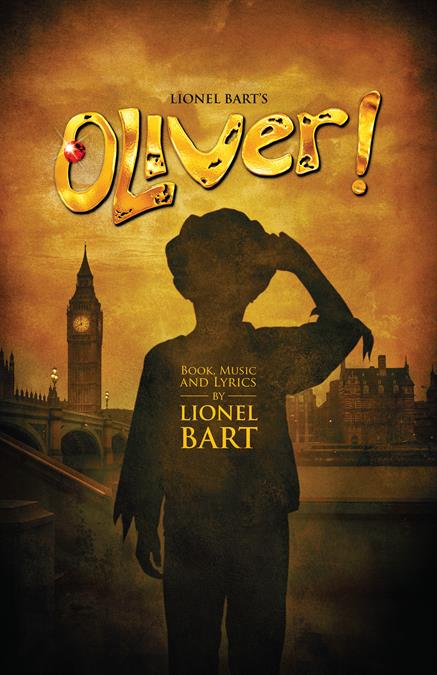 OLIVER!
Book, music and lyrics by Lionel Bart.
Consider yourself at home with Lionel Bart's classic musical based on Charles Dickens' novel, Oliver Twist. This Tony and Olivier Award-winning show is one of the few musicals to win an Academy Award for Best Picture and is widely hailed as a true theatrical masterpiece by actors and audience members alike.
The streets of Victorian England come to life as Oliver, a malnourished orphan in a workhouse, becomes the neglected apprentice of an undertaker. Oliver escapes to London and finds acceptance amongst a group of petty thieves and pickpockets led by the elderly Fagin.
When Oliver is captured for a theft he did not commit, the benevolent victim, Mr. Brownlow takes him in. Fearing the safety of his hideout, Fagin employs the sinister Bill Sikes and the sympathetic Nancy to kidnap him back, threatening Oliver's chances of discovering the true love of a family.
CAST:
OLIVER: Ella Tischer
MR. BUMBLE: Tim Good
MRS. CORNEY: Karen Temple
MR. SOWERBERRY: Andrew Ranck
MRS. SOWERBERRY: Ashlee Vitz
CHARLOTTE: Hannah McLaughlin
NOAH CLAYPOLE: Clay Glessner
FAGIN: TJ Tincher
Artful Dodger: Alex Gurnon
Charley Bates: Joey Draper
Nipper: Josie Tischer
Captain: Cyrus Gurnon
Nancy: Grace Buehler
Bet: Emily Gray
Bill Sikes: David Johnson
Mr. Brownlow: Chris Wurster
Dr. Grimwig: Jim Elliott
Mrs. Bedwin: Kathi Elliott
Old Sally: Sandi Rossok
ADULT ENSEMBLE: John Tischer, Bart Jones, Barb Boese, Kathi Elliott, Jim Elliott, Ashley Hugues, Jay Prewitt, Stevie Keenan, Hannah McLaughlin, Clay Gessner, Sadie Henry, Elyse Ensley.
KIDS ENSEMBLE: Josephine Glessner, Josie Cox, Clara Everett, Jasmine Cummings, Sage Cummings, Michael Henry, Marley Jedele.
Pauper Assistants: Clay Glessner & Hannah McLaughlin
Governor: John Tischer
Governor: Bart Jones
Governor: Jay Prewitt
Chairman: Chris Wurster
'Large Governor': Jim Elliott
Matron: Kathi Elliott
Chairman: Bart Jones
Tavern Keeper: John Tischer
Rose Seller: Ashlee Vitz
Milkmaid: Sadie Henry
Strawberry Seller: Emily Gray
Knife Grinder: John Tischer
Maid: Barb Boese
Book Boy: Josie Tischer
Fancy Couple: Andrew Ranck & Ashlee Vitz
Nightwatchman: Bart Jones
Lamplighter: Stevie Keenan
Hussar: Clay Glessner
Girl: Hannah McLaughlin
First Runner: John Tischer
First Woman: Barb Boese
First Man: Jim Elliott
Second Runner: Bart Jones
Act One
Prologue / Overture – Orchestra
Food, Glorious Food– Workhouse Boys
Oliver!– Mr. Bumble and Widow Corney
I Shall Scream – Mr. Bumble and Widow Corney
Boy for Sale – Mr. Bumble
That's Your Funeral – Mr. Sowerberry, Mrs. Sowerberry, and Mr. Bumble
Coffin Music – Orchestra
Where is Love? – Oliver
The Fight – Orchestra
Oliver's Escape – Orchestra
Consider Yourself – The Artful Dodger, Oliver, and Chorus
You've Got to Pick a Pocket or Two – Fagin and Fagin's Gang
It's a Fine Life – Nancy, Bet, and Fagin's Gang
I'd Do Anything– The Artful Dodger, Nancy, Oliver, Bet, Fagin, and Fagin's Gang
Be Back Soon – Fagin, The Artful Dodger, Oliver and Fagin's Gang
Capture of Oliver – Orchestra
Act Two
Oom-Pah-Pah – Nancy and Chorus
My Name – Bill Sikes
As Long As He Needs Me – Nancy
Where Is Love? (Reprise) – Mrs. Bedwin
Who Will Buy? – Oliver, Vendors, and Chorus
It's a Fine Life (Reprise) – Bill Sikes, Nancy, Fagin, and The Artful Dodger
Reviewing the Situation -Fagin
Oliver! (Reprise) – Mr. Bumble and Widow Corney
As Long As He Needs Me (Reprise) – Nancy
London Bridge – Orchestra
Reviewing the Situation (Reprise) – Fagin
Finale – Company
Listen to the Original Broadway Cast Album HERE.