The Cast: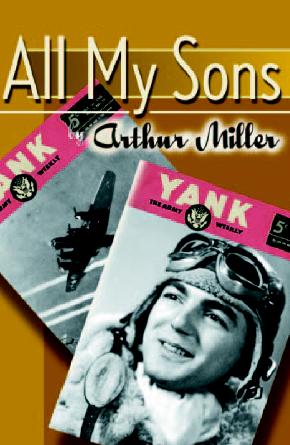 Joe Keller:
Middle aged and prosperous, Joe Keller is a family man whose world does not extend beyond the borders of his front yard or the gate around his factory. He is not a greedy, conniving caricature of capitalism, but rather a good-natured and loving man of little education, whose myopic perspective on his world stems from a devotion to his family and an education in a society that encourages generally antisocial behavior. American rugged individualism alienated Keller, whose past misdeeds haunt the future of his family.
Kate Keller (Mother):
Though she has a successful husband and a loving son, Mother cannot abandon the memory of her other son, who was lost in the war. Her delusions about Larry's disappearance and her vehement self-denial are symptomatic of greater issues than just a grief-stricken mother's inability to cope with the loss of a child. Nervous and suspicious, Mother has taken on the burden of her husband's secret while he presents the face of an untroubled conscience to the world, while she suffers from headaches and nightmares. Her fantasies about Larry are constructed from a sense of self-preservation, and the flimsy basis for her hopes is threatened any time someone who loved Larry intimates that he or she may not share Kate's confidence in his return.
Chris Keller:
Returning from the war as a hero, Chris found the day-to-day provincialism of his old life stifling. But Chris is a family man, and he is devoted to his parents. He is uncomfortable with the success his father's business found during the war, when so many of his comrades died pointlessly. He redirects his discomfort into an idealism and an attitude of social awareness that is foreign to his family environment. Others perceive Chris's idealism as oppressive, asking sacrifices of others that Chris himself does not make as he lives comfortably (if guiltily) on his father's dime.
Ann Deever:
The beautiful Ann has not become attached to a new man since her beau Larry died in the war, but this is not through lack of suitors. Ann is mired in the past, though she has not been waiting for Larry to return. Rather, she has waited for his brother Chris to step forward and take Larry's place in her heart. She is an honest, down-to-earth girl, and she is emboldened by the strength of certain of her convictions. Sharing Chris's idealism and righteousness, she has shunned her father for his crimes during the war, and she fully understands his assertion that if he had any suspicions of his own father, he could not live with himself. Ann and her brother work to establish "appropriate" reactions to a father's wartime racketeering.
George Deever:
George serves a mostly functional role in the story of the Keller family. His arrival in the second act is a catalyst for a situation that was on edge from long-established tensions. His disdain is for the crime, not for the man, and now that he has been newly convinced of his father's innocence, he is here to rescue his sister from entering the family of the man he believes is actually guilty. Yet George is easily disarmed by Keller's good humor, and his own convictions about his father's innocence are almost undermined by his awareness of his father's other faults and weaknesses.
Dr. Jim Bayliss:
The neighborhood doctor, Jim is a good man who believes in the duty of one man to help another, but he at the same time acknowledges a man's responsibility to his family. He is interested in medicine not for the money but to help people. This point is dramatized by his reluctance to bother with a hypochondriac. He once left his wife to do medical research, but he eventually went home, putting his responsibility to his family ahead of his responsibility to the world.
Sue Bayliss:
Jim's wife Sue put her husband through medical school, and she expects more than gratitude in return. She blames Chris's infectious, insinuating idealism for her husband's interest in the fiscally unrewarding field of medical research.
Frank Lubey:
A simple neighbor, Frank has an interest in astrology. Mother asked him before the start of the play to prepare a horoscope for Larry in order to determine his "favorable day."
Lydia Lubey:
Now married to Frank, Lydia is a former sweetheart of George's, but she did not wait for him to return from the war. Seeing Lydia makes George wistful about the simpler life he could have had, if he had not left home for the greater world of New York.
Bert:
Bert is a neighborhood boy who plays cop-and-robber games with Joe Keller, to Mother's chagrin. Keller has allowed Bert and the other children to get the story of his jail time wrong and to believe that he is a chief of police with a jail in his basement. Mother is made very anxious by these games.