Director's Note
From Jim Green:
I am thrilled and perhaps somewhat terrified to be
making my directorial debut at the Putnam County
Playhouse with Larry Shue's "The Foreigner," It was
first performed in The Milwaukee Repertory 1983 with
the playwright himself playing the lead character.
The scene is a fishing lodge in rural Georgia often
visited by "Froggy" LeSeuer, a British demolition
expert who occasionally runs training sessions at a
nearby army base. This time "Froggy" has brought
along a friend, a pathologically shy young man named
Charlie who is overcome with fear at the thought of
making conversation with strangers. So "Froggy,"
before departing, tells all assembled that Charlie is
from an exotic foreign country and speaks no English.
Once alone the fun really begins, as Charlie overhears
more than he should—the evil plans of a sinister,
two-faced minister and his redneck associate; the fact
that the minister's pretty fiancée is pregnant; and
many other damaging revelations made with the thought
that Charlie doesn't understand a word being said. That
he does fuels the nonstop hilarity of the play and sets up
the wildly funny climax in which things go uproariously
awry for the "bad guys," and the "good guys" emerge
triumphant. I hope to see veterans and novices alike
audition for our production. I can hardly wait to get
started. Here are the characters waiting to be taken from
the printed page and brought to life on stage.
Froggy (Staff Sergeant LeSueur) — His army buddies probably
gave him the nick-name "Froggy" because of his French last
name, but nobody is more British than this member of the
British Army's bomb squad. Froggy is a good natured
character who just wants everybody to be happy. He is
particularly concerned about the welfare of his friend,
Charlie Baker.(English accent required)
Betty Meeks—a widow who owns the lakeside lodge that is the
setting for this play. Betty and her late husband have owned
and operated this 'bed and breakfast" for as long as anyone
can remember. When her husband died, Betty just kept right
on welcoming the summer tourists. She is a motherly woman who
has probably never left her home state of Georgia. She is
naively excited to learn about anything "foreign".(Southern
accent required)
Reverend David Lee—Also a guest staying at Betty's lodge. The
Reverend David Lee is almost too good to be true. He is
patient, polite, intelligent, and friends with everyone, but
we soon discover that David is hiding something. (Southern
accent required)
Catherine Simms—a pretty, young debutante, Catherine comes
from a wealthy Southern family. She is the heiress to her
father's estate and is engaged to Reverend David Lee.
Catherine is a woman who speaks her mind. She has a bit of a
temper, but she also has a sense of humor.(Southern
accent required)
Owen Musser—an unpleasant man all around. Owen is definitely
the villain of this play. He is a grown man with the instincts
of a play-ground bully, and is using his position as Tilghman
County Property Inspector to confiscate Betty's lakeside lodge.
Owen takes advantage of anyone that is weaker than he is, but
like most bullies he is easily intimidated by a show of
strength.(Southern accent required)
Ellard Simms—a "lumpy, overgrown, backward youth." Ellard is
Catherine's little brother, he will also inherit a portion of
the family money, unless Catherine decides that he is mentally
unfit to handle it. Ellard seems to be "not quite all there."
He is awkward, shy and easily confused. Everyone in his family
has always expected him to get things wrong, and he usually
lives up to their expectations.(Southern accent required)
Charlie Baker—has a kind heart, but a boring life and a wife
who doesn't love him. He has accepted Froggy's invitation to
travel to America in order to get away from his troubles, only
to find that more troubles are waiting for him there. Charlie
is a painfully shy man so he and Froggy agree to pretend that
Charlie doesn't speak English so that he won't have to make
small talk with the other characters in the play. (English
accent required)
I will also be seeking technical support (lights, soundboard,
and stage manager) for our production.
Hope to see you there!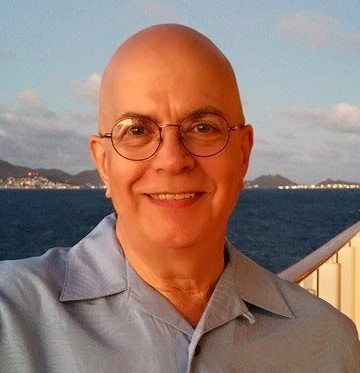 Jim Green
My first involvement with the Putnam County Playhouse was in 2002
Following taking my daughter Alixandra to see :The Music Man"
at Greencastle High School, she was bitten by the acting bug and
wanted to audition for "The Wizard of Oz". I thought if I
auditioned too she might be more comfortable; truth is, I wanted
to participate too. Fifteen years and many plays later, I am
directing for the first time for our July presentation of "The Foreigner".
PCPH has been a family affair for us and our playhouse family from the
first time we entered. Live theater is such a wonderful experience and
watching participants come, go and grow has been a life changer.
Now I am a member of the Board of Directors and look forward to many more
years of service to the playhouse and our community. Hope to see you there!