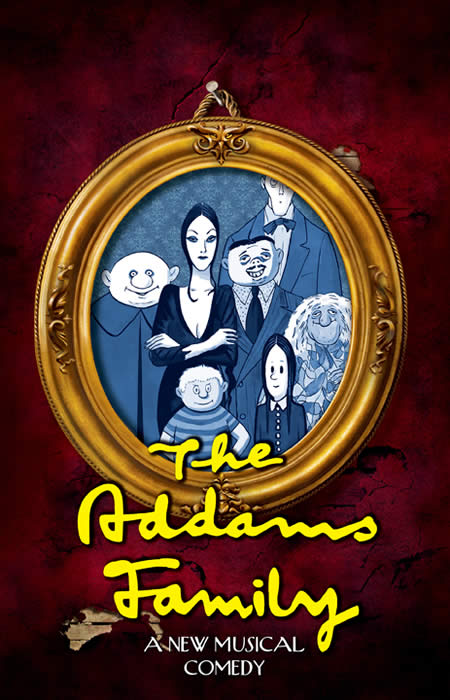 Read about the show HERE.

Buy the original Broadway cast CD HERE.

Cast List:
Gomez Addams: Joshua Bain
Morticia Addams: Tarah Thornburg
Uncle Fester: Brad Sandy
Wednesday Addams: Chloe Hayes
Grandmama: Caroline Good
Pugsley Addams: Devin Huff
Lurch: Michael McClaine
Mal Beinecke: TJ Tincher
Alice Beinecke: Shelly McFadden
Lucas Beinecke: Cameron Callahan
Addams Ancestors:
Flapper: Sarah Arnold
Flight Attendant: Sarah Bond
Bride: Samantha Flannelly
Conquistador: Drew Harris
Civil War Soldier: David Lorimer
Saloon Girl: Bryana Perry
Cave Girl: Winter Perry
French Revolutionary Woman: Stephany Zhivotovsky

Tech Crew:
Darvell Barger- Sound Operator
Haley Wilson- Light Operator
Grace Elmore- Spotlight
Sarah Nowling- Spotlight

Stage Crew:
Jessica Masner- Stage Manager
Mason Allen- Stage Hand
Cameron Wunderlich- Stage Hand
Mariah Taylor- Stage Hand
Connor George- Stage Hand

Pit:
Marylin Rush- Pit Conductor/Piano
Morgan Asher- Keyboard
DeDee Schwomeyer- Drums
Drew Brattain- Bass

The Story:
That lovable family of creepy kooks is alive and
well and living in their super-spooky mansion in
Central Park. The Addams family, led by the
elegantly gaunt and seemingly undead Morticia
and her ever-devoted husband Gomez, is in
turmoil. Their daughter Wednesday, now 18, finds
herself falling in love—a sensation that is
unsettling for both her and her family of endearing
misfits. When the teen invites her new boyfriend,
Lucas Beineke, over with his "normal" family to
get better acquainted with the Addams household,
comic chaos (including everything from an
amorous giant squid to mixed-up potions to a
scorching tango) ensues.