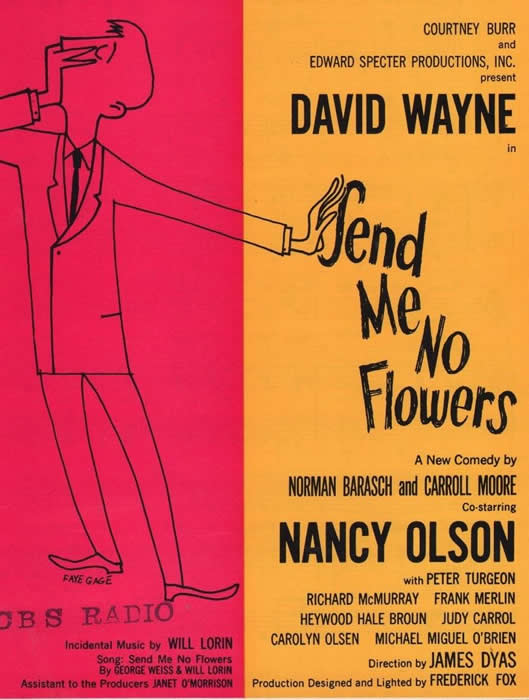 The Cast
In Order of Appearance
Judy Kimball – Samantha Flannelly
George Kimball – Scott Armitage
Vito-Noah D. Pettit
Bert Power – Bryan Schroeder
Dr. Ralph Morrissey – Cameron Wunderlich
Arnold Nash – Sam Draper
Mr. Akins – Jack Randall Earles
1st Passerby – Eleanor Howard
A Girl ("Baby") & Second Passerby – Mitra Flott
Miss Mason – Michaela Semak
The Story:
David Wayne starred on Broadway as George Kimball, a Westchester commuter whose
favorite hobby is hypochondria. When he mistakenly overhears his doctor discussing
another patient with heart trouble, he prepares to meet the end bravely, sure it
is 'his time'. Putting his affairs in order, he writes a heartbreaking letter to
his wife to be read as his eulogy. He even arranges a good second husband for his
soon-to-be widow, with a cemetery plot for three: himself, his wife and the new
future 'Mister Kimball'. The play was also the basis of a popular movie from 1964
of the same name. The film starred the film trio of Doris Day, Rock Hudson, and
Tony Randall.