A note from Shelly:
In 1976, I attended Footlight Musicals' production
of 1776 and I absolutely loved it! It was the first
show I had seen on stage (with the exception of our
high school plays & musicals at Whiteland High School).
I have been hoping to direct this show for several
years and, now, I have the opportunity to do so at our
gem of a theater right here in Putnam County. Over our
2015 fall break, my husband & I visited Independence Hall
in Philadelphia and visited the actual setting of 1776.
It was awe-inspiring to be in the same room where our
founding fathers crafted the Declaration of Independence.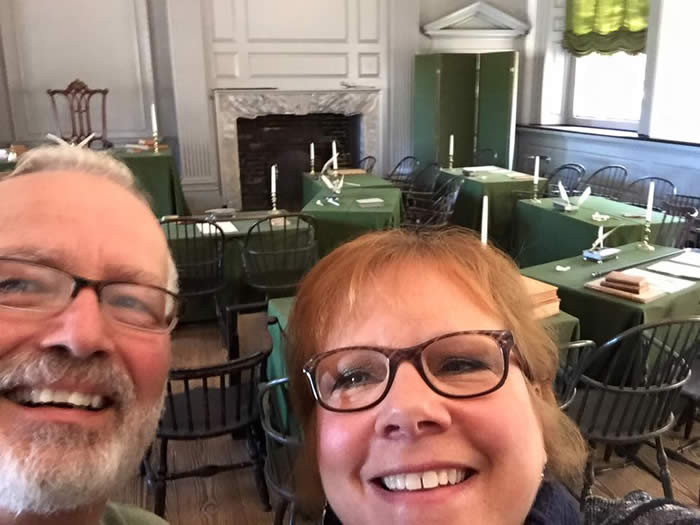 We ate dinner at the old City Tavern frequented by many of
the Continental Congress. It is my goal to bring these
amazing characters to life with honesty, emotion and humor.
1776 is full of really great music and a very smart,
entertaining script. The cast will consist of 2 women and
25 men. It's a production that needs lots and lots of men!
We will have an extraordinary amount of fun staging this show.
Thanks to everyone who attended auditions!
It's going to be a terrific season at Putnam County Playhouse!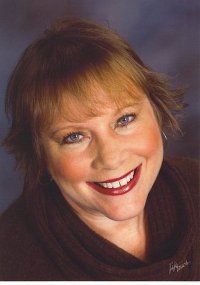 Shelly McFadden

Shelly came to Putnam County Playhouse in 1991
when she played Florence in our first production
of Neil Simon's The Odd Couple (Female Version).
Since then she has been very involved with PCPH
as a performer, a director, and board member.
Last season she played The Witch in the musical
Into the Woods. She also directed Seven Brides
for Seven Brothers. Shelly has played roles in
many musicals including The Music Man, Man of La
Mancha, and Clue: The Musical. She also appears
in non musicals such as I'll Be Back Before
Midnight and The Sunshine Boys. Her directing
assignments include The Music Man, Never Too
Late,The Drowsy Chaperone, and Thoroughly Modern
Millie. Shelly is the Executive Director of Care
Net of Putnam County in Greencastle.