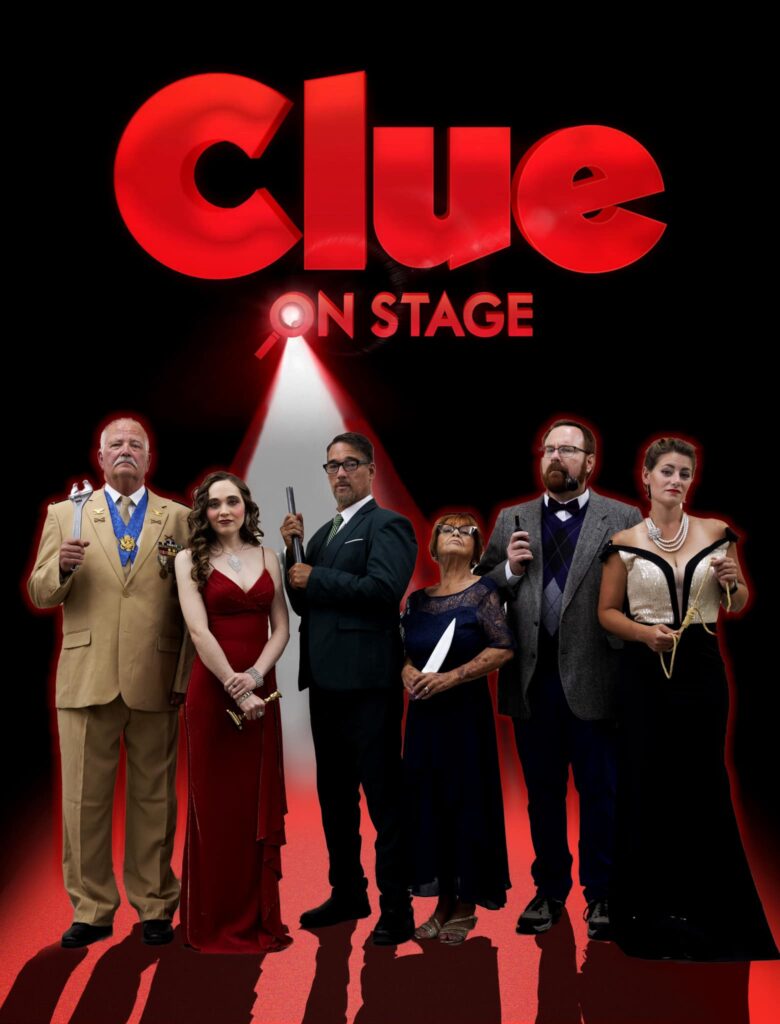 The 61st season of the Putnam County Playhouse continues with a production of the mystery/comedy Clue: Onstage. It will be produced July 7-9 and July 13-16. All performances are at 8 p.m. and all tickets are $10. Reservations can be made by calling the box office at 765-653-5880 from 5 p.m. to 7 p.m. Monday through Saturday, during performance weeks only. Tickets and reservations are available through the box office only. No tickets requests or questions can be answered online.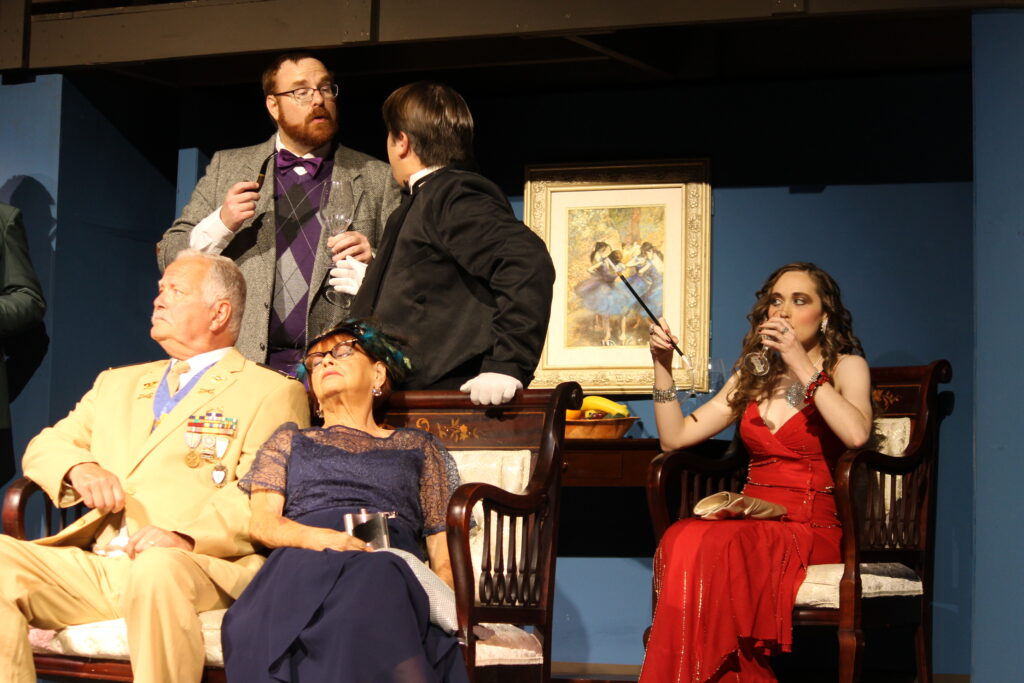 Clue: Onstage brings all of the familiar board game characters to life. Director Shelly McFadden and her assistant Vickie Parker have assembled a cast of PCPH veterans and newcomers to solve the case of the murder of Mr. Boddy (William Dory).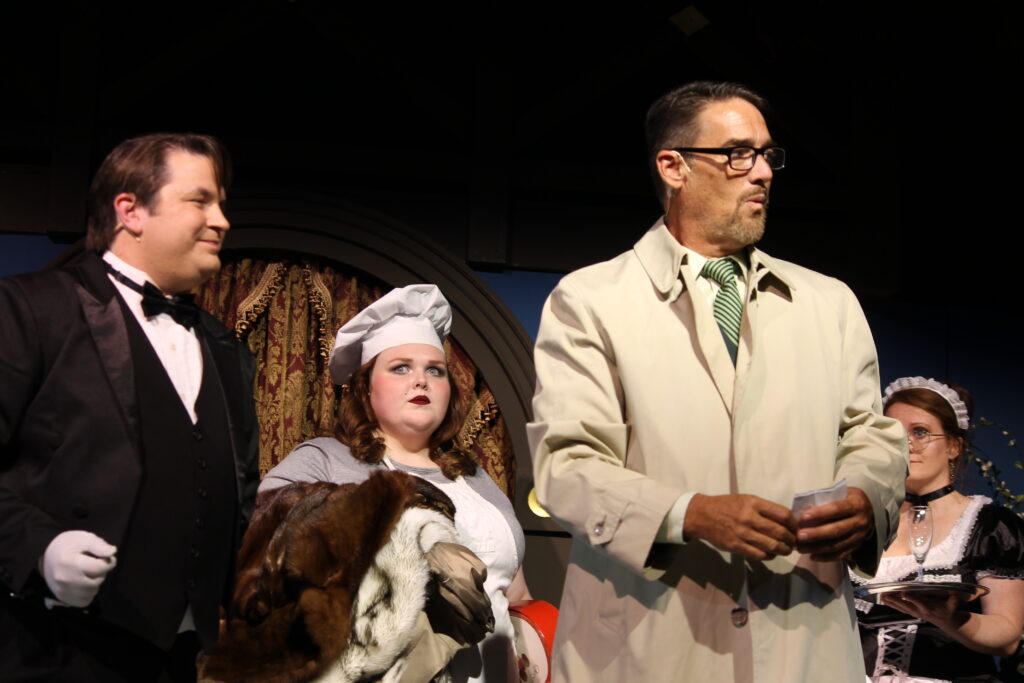 McFadden has directed many productions at PCPH including 1776, The Hunchback of Notre Dame, and The Drowsy Chaperone. Parker has been with the Playhouse for many years. Her directing assignments have included Annie (1984), Oklahoma!, and Kiss Me, Kate (twice).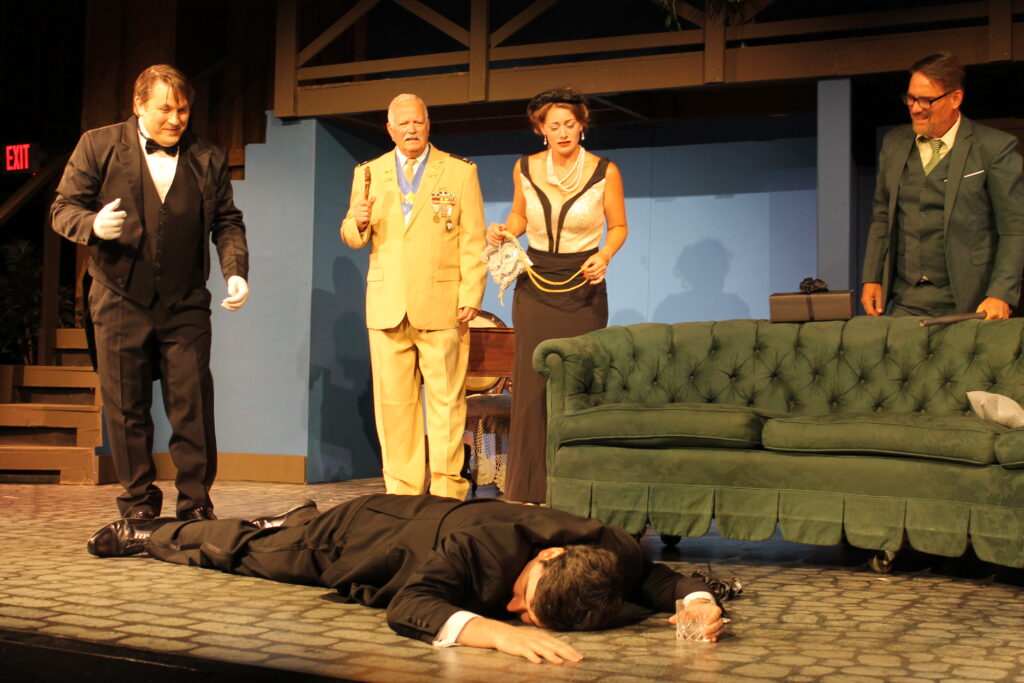 The lively cast in addition to Dory includes Dustin Bond as Wadsworth, the Butler. Characters matching the game tokens are Brad Sandy (Mr. Green), Daniel Hankee (Professor Plum), Anna Harris (Mrs. White), Courtney Slough (Miss Scarlett), Ric McFadden (Colonel Mustard), and Lita Sandy (Mrs. Peacock). Each of them spend time under investigation and questioning as Wadsworth tries to solve the mystery under pressure from the local police and various surprise vistors.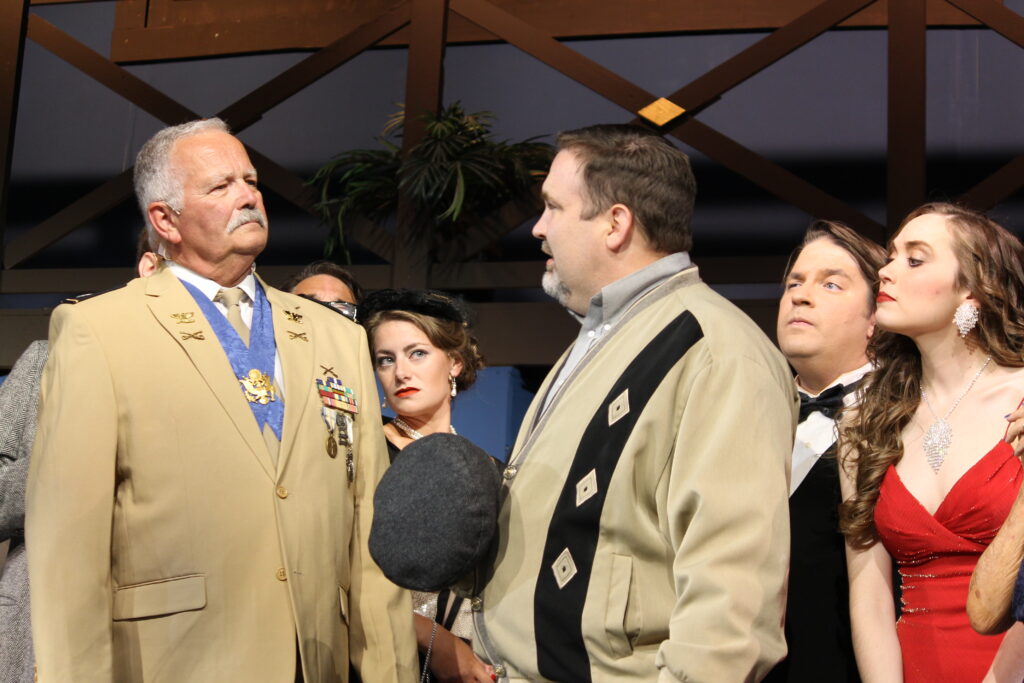 Others at home in Boddy Manor include Tatum Boswell (The Cook) and Kyla Scheuermann (Yvette).
Playing multiple roles are Sam Draper, Cameron Wunderlich, and Jack Randall Earles is the Chief of Police. There is even a surprise mystery guest who makes a brief appearance. Michael McClaine is the voice of the News Caster.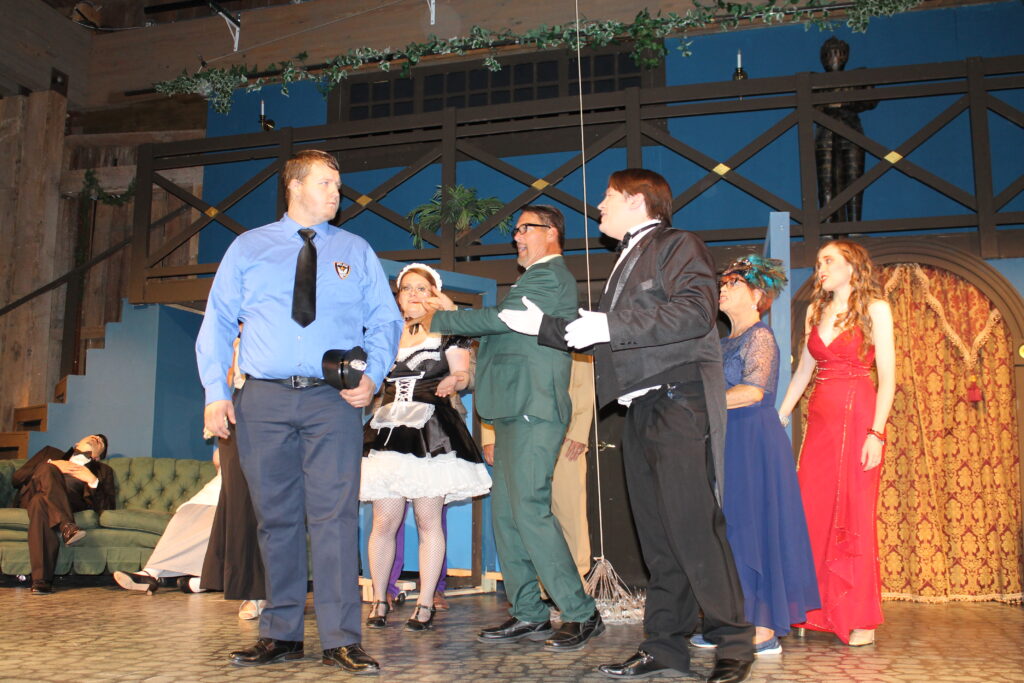 Boswell, Hankee, and Slough are making their PCPH debuts in this production. Bond was last seen in You Can't Take It With You which he also directed last season. Brad Sandy was seen in Picnic and Lita Sandy has appeared in leading roles in Steel Magnolias and Gypsy.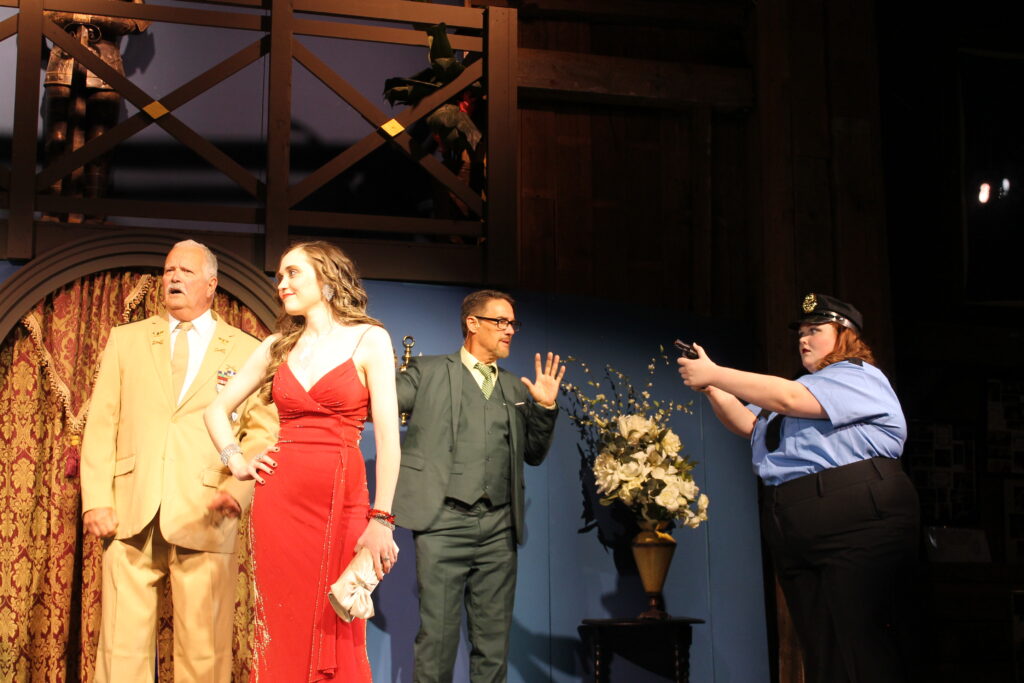 Harris played roles in The Mousetrap and The Game's Afoot. Ric McFadden has appeared in The Hunchback of Notre Dame and in The Music Man and Camelot. Dory is returning to the PCPH stage after appearing in Footloose a few seasons ago. Draper, Wunderlich, Scheuermann, and Earles have all had supporting roles in many productions.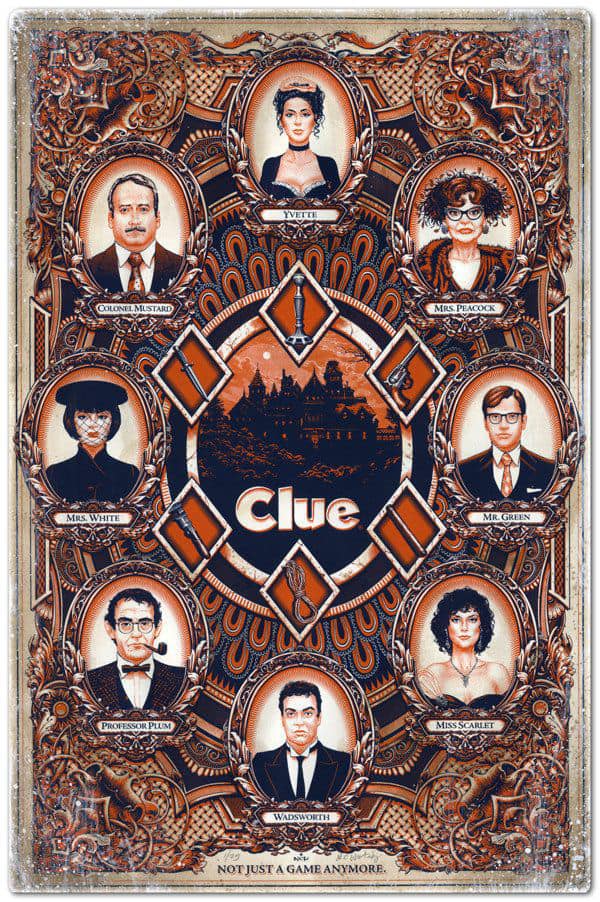 Ben South is the sound board operator and Grace Elmore will run the light board. Wunderlich is production stage manager. On the active stage crew are Parker Helmer, Bart Jones, Rebecca Hebb, Emily Gray, and Henry Cox. The keyboard player is Morgan Asher.
THIS PRODUCTION IS SPONSORED BY:

AND