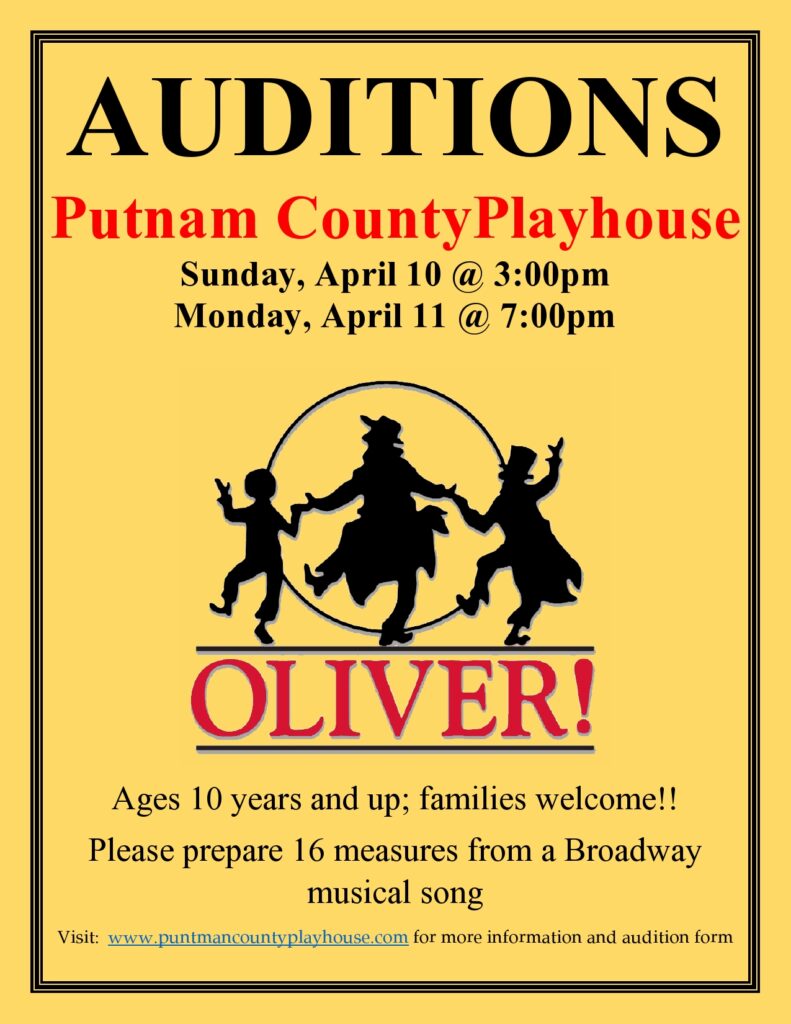 Director Caroline Good is holding two sessions of auditions to cast the musical OLIVER! – the opening show of the 61st season of Putnam County Playhouse. The first session will be Sunday, April 10 at 3 p.m. The second session will be Monday, April 11 at 7 p.m. Both sessions will be in the Michael McClaine Rehearsal Center at the Hazel Day Longden Theatre in Greencastle. With book, music & lyrics by Lionel Bart the musical was a hit in the West End in London and on Broadway. It was also turned into an Academy-Award-winning film.
The title is character Oliver Twist, a workhouse boy whose adventures drive the narrative of the musical. It is based on the Charles Dickens novel of the same name. Caroline is looking for a boy or girl with a stage age of 10 years old who can sing in the soprano voice, particularly in the solo song "Where Is Love?".
A group of younger performers (ages 8-16) will play the boys in the workhouse, Fagin's gang including The Artful Dodger, and perform in the ensemble. There are roles for about 16 performers male & female in this category.
Caroline is also looking for performers for adult roles including Fagin, the man who teaches his gang of boys to be thieves; Nancy, a young girl trying to live a better life; Bill Sikes, a villainous man who threatens both Oliver & Nancy; Mr. & Mrs. Sowerberry, the undertakers; Mr. Bumble, the workhouse beadle; Widow Corney, the workhouse mistress; and Mr. Brownlow, a gentleman of wealth & breeding. Vocal requirements for these characters can be found here. There are several other characters to be cast and there is large singing & dancing ensemble that appears in most of the show!
All of those wishing to audition should prepare 16 bars of a song from a Broadway musical. An accompanist will be provided. There will also be readings from the script and a short dance/movement audition by choreographers Sarah Armitage & Josh Bain.
Vocal director for the show is Kathryn Dory and pit director/conductor is Amy Tharp. The musical will be presented June 2-4 & June 8-11.
Ages 8-16 download an audition form HERE.
Adults 17+ download an audition form HERE.
Oliver! Is sponsored by: