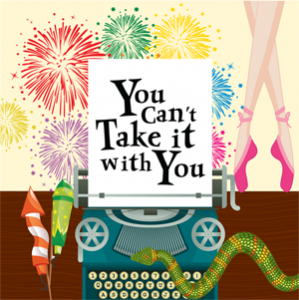 Director Dustin Bond has scheduled two sessions of auditions for You Can't Take It With You. The Pulitzer-prize winning comedy by George S. Kaufman and Moss Hart will close the 60th season of Putnam County Playhouse with performances September 7-11 and September 14-18.
Auditions will be at the Rehearsal Center at the Hazel Day Longden Theatre on Sunday, July 18 at 3 p.m. and again Monday, July 19, at 7 p.m.
Download an audition sheet here.
The show is being sponsored by Shuee's Great Buys Plus.
To read about our sponsor click here.
Bond is looking for actors to portray a family of eccentrics – the Sycamores – who live by their own rules and the people who come into contact with them. There are roles for actors of all ability levels. The leading roles include Grandpa Vanderhoff, the head of the family; Penny, his daughter, who fancies herself a painter and/or a playwright; Alice, the grand daughter who is not sure of her place in the world; and Tony Kirby, who loves Alice in spite of her family.
Other roles include Penny's daughter Essie and her husband Ed, the family servants Reba and her boyfriend, Donald: Tony's disapproving parents, and many more. The full character list and their stage ages can be found here.
To read the play click here.
This is a great opportunity for actors who are looking to be onstage for the first time or who are returning to the stage after an absence. All those auditioning should be 16 years of age or older.
The 60th season continues in August with a production of the musical Joseph and The Amazing Technicolor Dreamcoat.