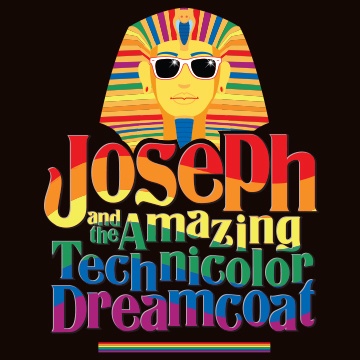 Director Jack Randall Earles will hold two sessions of auditions for the musical 'Joseph & The Amazing Technicolor Dreamcoat'. The first will be Sunday, June 12, at 3 p.m. The second will be Monday, June 13, at 7 p.m. Both will be at the Michael McClaine Rehearsal Center at the Putnam County Playhouse.
You can download an audition form HERE.
The musical will be presented August 11-13 and August 17-20.
It is sponsored by:
The leading roles include Joseph, the dreamer; the Narrator, who tells the story; Joseph's eleven brothers and their mothers. Other roles are an Elvis-like Pharoah, Potiphar and his wife, and Jacob the "founder of the nation." More details about the story and the characters can be found HERE.
The actresses playing the Mothers are also part of a lively ensemble that is included in most of the songs and dances.
Everyone should prepare 32 measures of a song for the audition. Morgan Asher, the musical director of the production will be on hand to provide accompaniment. The song can be from the show or another 'Broadway' type number. Those auditioning for the role of the Pharaoh should prepare an 'Elvis' type song.
After the singing, there will be a dance audition for all. Since the show is "sung-through" there are no scenes to read. Be prepared to shine in both the singing and dancing portions of the audition. And be prepared to have fun!
In addition to Asher, the production team includes Sandi Rossok as the assistant director, Kathryn Dory as the vocal director, and Cameron Wunderlich as production stage manager.
You can listen to the 1991 London Palladium Cast CD HERE.